The # 1 selling SUV of all time arrives at dealerships for 2020 with a Hybrid model offering. That's good news for drivers demanding high fuel efficiency while not driving 100% electric. Honda Motor Company sees the broader environmental benefits of taking CR-V electric.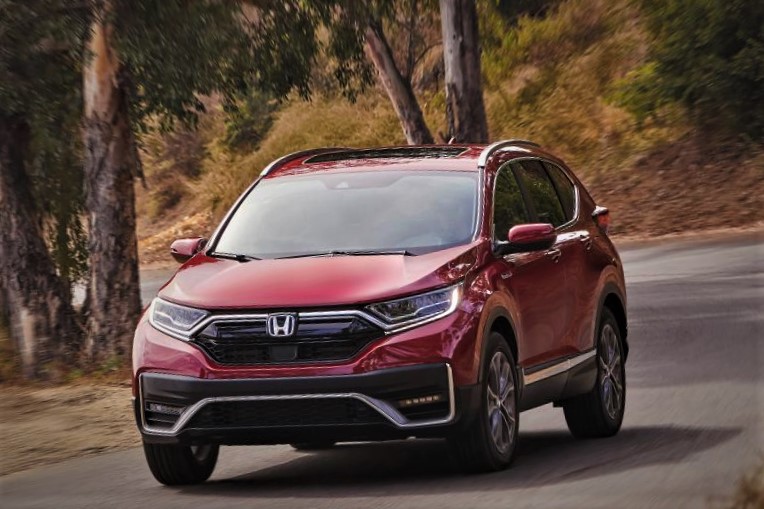 For some, Honda's latest pullback on across the brand electrification may seem a bit counter to the maker's mission to electrify 75% of the lineup by 2025. There's some logic to it.
In 2021 we'll see mainstay compact car Honda Fit dropped from American Honda Motor Company offerings, as well as the short lived 100% electric Clarity EV..
However, it could be argued that electrifying CR-V will have a greater environmental impact. In fact, 2020 Honda CR-V takes automotive electrification mainstream in the U.S.A., while remaining financially profitable for the manufacturer, and financially attainable for the consumer.
In addition to exceptional fuel economy there's some real performance benefits to electrification, such as increased torque, electric-only drive range, lower emissions, and more, as Honda holds the bottom line on consumer car purchase cost. When considering the reduced cost of operation, (fuel use) the hybrid option is effectively free of charge.

Honda pitches the Fit and kills Clarity EV

Looking to Auto sales volume the sub compact car is dead once again in North America. No doubt, this factoid is supported by slumping consumer demand for subcompacts, as the ever popular compact and midsize crossover, SUV segment outsells all other configurations with the exception of the pickup truck.
So, Fit goes the way of Honda's CRX, with Clarity BEV killed for lack of per charge drive range, and car buyer interest.
As to Clarity Electric: Although an exceptional driver by any measure, very limited range has killed Clarity EV, with Clarity PHEV and Clarity passive hybrid remaining in the lineup; good news for Los Angeles and San Francisco commuters — the largest market for the Japanese owned, yet mostly manufactured in North America Auto maker.
According to our American Honda insider: Honda may expand the consumer retail availability of Clarity in the future, in line with market demand. In the meantime Honda Accord, Insight, and the just released CR-V Hybrid will carry electrification forward for Honda in the US, alongside MDX SUV and NSX in the uptick Acura lineup.   

Looking at the numbers. Why CR-V? 
Following the successful launch of the Accord Hybrid, and compact sedan Insight, Honda suggests that the quickest route to reducing total fleet produced hydrocarbons is by electrifying the # 1 selling retail SUV in the United States — that just happens to be Honda CR-V.
On average, 30,000 CR-V's roll off the assembly line every month. As reported in February 2020, Honda Motors rightfully claims the lowest Hydrocarbon pollution fleet average in North America
Honda anticipates no fewer than 10% of 2020 CR-V's sold to be Hybrid, perhaps higher. This will place an additional 30,000 or more electrified Honda's on North American roads in 2020 alone. Putting this number into perspective, American Honda sold 4078 electrified cars for February 2020. 

How Electrifying CR-V benefits the consumer. More power, less fuel
In the standard 1.5 liter turbocharged powered offering Honda CR-V is a comfortable near midsize 2 row SUV with all-wheel-drive weather foul capabilities. For 2020, Honda CRV comes to market with an electric Hybrid propulsion option shared with Accord Hybrid.

Powerful, torque rich and cabin quiet, CR-V Hybrid loses no interior volume to control module and battery, yet gains horsepower, torque and fuel efficiency. CR-V Hybrid is arguably the most powerful non-turbocharged SUV in the compact class, stating a combined 212 HP and 232 lb-ft torque — utilizing a normally aspirated 2.0 L direct fuel injected DOHC i-VTEC Atkinson cycle 4 cylinder gasoline engine, and 2 rare earth, brush-less electric motor propulsion system. 
I'm impressed by CR-V Hybrid's segmented CVT-like 3- drive mode non transmission; affording Sport, EV or economy drive choices. Honda's CR-V Hybrid claims an in-city EPA MPG of 40, and 35 highway on regular gasoline, astounding! Yet, being Honda, there's more.
Advanced Safety Suite, Intelligent AWD, dial select drive modes and more

Coming to market in March 2020 with a LX base model MSRP of $27,750, CR-V Hybrid remains a measurable value. This year CR-V features Honda SENSING, a comprehensive driver assist accident avoidance electronic safety suite, as well as Real Time All Wheel Drive with Intelligent Control System, all standard features.

Without question 2020 is a great year for Honda CR-V. I recommend test driving this Hybrid, Green minded or not, to anyone considering the lease or purchase of a compact or midsize 2-row SUV.

Bullet Point or two

Improved off the line acceleration

Greatly improved in-city and highway fuel economy: 40/35/38 combined

Standard Honda SENSING safety suite

Greater "electric only" cruising range

Led Headlamps, automatic high beam dimmers

Automatic cabin climate control
Next generation Real Time AWD with Intelligent Control System

2020 CR-V Hybrid Pricing & EPA Data
| | | | |
| --- | --- | --- | --- |
| Model / Trim | MSRP1 | MSRP1 Including $1,120 Destination Charge | EPA Mileage Rating(City/Hwy/Combined)2 |
| CR-V Hybrid LX | $27,750 | $28,870 | 40 / 35 / 38 |
| CR-V Hybrid EX | $30,260 | $31,380 | 40 / 35 / 38 |
| CR-V Hybrid EX-L | $32,750 | $33,870 | 40 / 35 / 38 |
| CR-V Hybrid Touring | $35,950 | $37,070 | 40 / 35 / 38 |
Photo attributions AHMC 2020