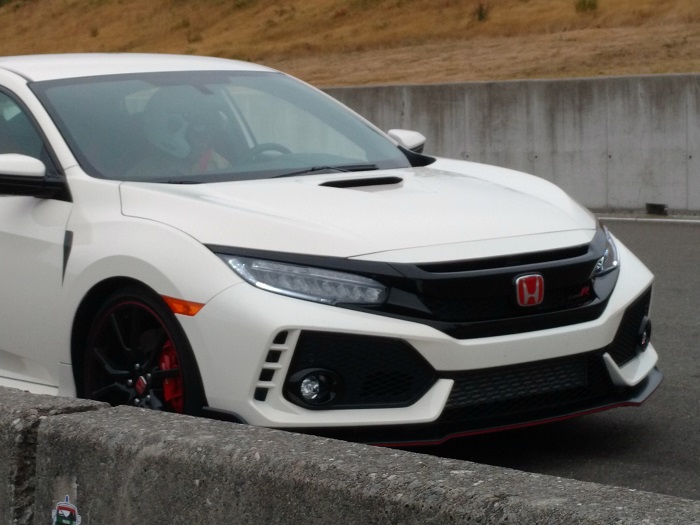 Not often does an auto manufacturer successfully blend track proven high performance and long range touring comfort in an affordable, segment topping high performance hatchback; such is the case with Civic Type-R. For 2017, the first Civic to wear the enviable Type-R mark in the United States is now imported from England.
Several years in the making, the Honda Fan Boy Tuner crowd is excited by the arrival of Honda's Brembo braked 305 horsepower, 6 speed manual transmission super hatchback. And rightfully so. 2017 Civic Type-R  gives Ford, Subaru, and Volkswagen a run for the money, and will dominate the sub-premium compact performance hatchback segment without the added expense and weight of all-wheel-drive.
The weight to power ratio of 2017 Civic Type-R is epic, but that's just the beginning of this story.

305 horsepower 2017 Civic Type_R
Last week I spent a day with Honda on a 2.4 mile racetrack on Washington State's Puget Sound. Granted, the record holding 2017 Civic Type-R 5-door performance hatchback excelled on the track, with myself and other auto journalists reaching rev-limiting speeds, on a multiple elevation and downturn track that rivals many in Europe and the U.S.. Read my track day account here.
Truly, where 2017 Honda Civic Type-R surprised this rather jaded journalist and other road-hardened press jockeys was on the road. Frankly, I wasn't anticipating the ride refinement, cabin comfort, hands-free connectivity, and overall quality fit and finish encountered behind the wheel of Honda's most powerful turbocharged Civic produced to date. After 4.5 hours, and a very twisty 180 miles through the beaches, grasslands and woods of Puget Sound, I was ready to purchase Type-R, or at least beg, steel, or borrow one — it's that good man.
During Honda's technical presentation, we learned the finer points of Type-R increased frame rigidity, active dampening suspension, epic cooled Brembo brakes, and the makings of perhaps the most comfortable high bolstered seat in Honda history. The rest is pure Honda touring hatchback, as it should be.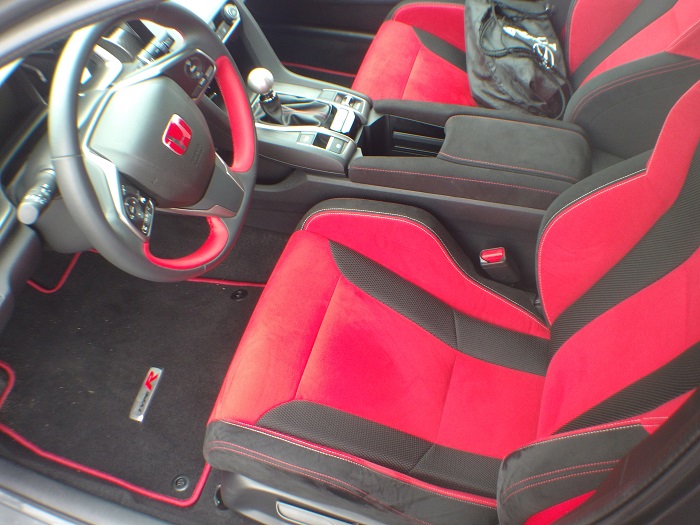 On the performance side, Honda employs a race proven VTEC 4-cylinder inner cooled 2.0 Liter dual cam gasoline engine, and arguably the most forgiving 6-speed manual racing class manual transmission in the segment. instant-on, seemingly endless torque is transferred to the pavement via a limited slip front-wheel drive differential.
Yet when behind the wheel, one would be hard pressed to differentiate Civic Type-R handling from the best AWD (all-wheel-drive) rally cars on the track today.
Honda engineering  eliminates torque steer in Type-R, resulting in a very positive straight-on launch off the light — Type-R traction is measurably sticky with ZERO brake fade noted under extreme driving conditions.
Manufactured on Honda's compact car world platform, this Civic adds a high performance spin to an already very good European hatchback drive and ride experience. Unfortunately, you may never see, or experience one driving down a road near you.
A mere 2500, 2017 Civic Type-R will make landfall this year
With 1200 + Honda car dealerships in the U.S., not all will take delivery of Honda's rarest offering. We're informed by Honda P.R. that annual production if indicated by buyer demand, will peak out at 5,000 units per year — that should keep the resale value up a bit.
After spending 7 hours behind the wheel of Civic Type-R, I'm sold. Looking to the MSRP of $33,000 + handling, tax, etc, I believe Civic Type-R to be an exceptional buy and drive value. And with the micro-production numbers, look for the initial run 2017 Civic Type-R to be an instant collectible.