Viewing Thursday's video reveal of Acura's latest and greatest TLX offering left me scratching my head. Honda's premium wing once again blurs the line between affordable premium and high-end luxury by delivering exceptional drive and ride packaging as promised. This thing is a beast! 
In short, the 2021 Acura TLX in any trim delivers "exceptional" pretty much everything as promised by its maker. The redesigned TLX may represent the segment benchmark for advanced design and engineering sport sedan packaging. Yet, there's a bit more to the story.
Acura's Precision Concept Car inspired 2021 TLX Type S
Most evident in the body-line, low sweeping long sculpted hood, tail light treatment and integrated ground effects, one can see Acura's Precision Concept show car's influence in the ground up redesigned Acura TLX. 
Measuring 2.2 inches wider and 3.7 inches longer than the first generation TLX, the all new Type S looks ready for Pirelli World Challenge racing. 
When looking to the wider track and lower roof line of the newly minted TLX, grand sport touring comes to mind. Furthermore, the short tail and trunk overhang accentuates a hood that seemingly goes on forever, as Acura design intended. I was blown away at the L.A. Auto Show with this Acura. 
The redesigned TLX sets a new Auto design benchmark for the midsize sport sedan segment. Presenting what the maker calls a true multiple personality sedan, the lower body work, grill integration and rocker design, presents a near track-ready nuance, as befitting a true sport sedan. This head turner looks fast at a standstill. Take a close look at the headline photo. Europe anyone?
Entire 2021 Acura TLX trim walk to benefit from reboot
Although the 3.0 turbocharged V6 TLX Type S takes the spotlight this week, according to Acura engineering, every 2021 TLX trim level borrows nothing from past itterents, as to frame, suspension and body design. The entire 2021 TLX trim walk benefits from the reboot.
New is new! For me, a driver first, Auto writer second, looking at TLX Type S I find a track worthy, wider, longer and lower exciting drive and ride experience. The redesigned TLX is a head turning — tire burning — road sticky, high speed stable and Teck rich sport sedan. Hey! What's under the hood? 
2.0 L, 3.0 L, 10 speeds, turbocharged excellence
Acura shares with yourhondanews that TLX comes to market in 2021 with 2 new turbocharged engine options, both paired to an advanced 10 speed automatic transmission, featuring sequential paddle shifting, and an all-wheel-drive option. 
Acura has not stated horsepower and torque output numbers for the all new 24 valve 3.0 turbocharged V6. But, the 2.0 VTEC 4cylinder base gasoline engine develops 272 peak horsepower and an impressive maximum 280 lb-ft torque from the midrange up, very close to the current normally aspirated TLX single cam V6. You'll find my educated guess as to estimated horsepower here.
SH-AWD option affords ultimate traction control
The latest generation SH-AWD will afford best in class all weather road handling and high speed car control. Also new for 2021 is improved frame rigidity, front suspension, and an NSX derived braking system. An affordable NSX-like driving experience?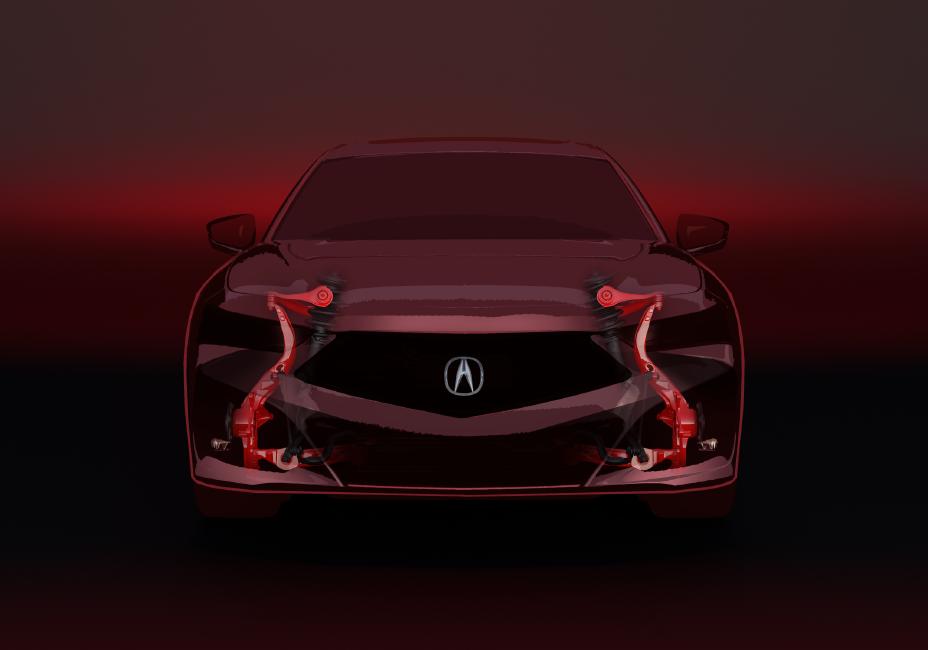 Featuring Brembo floating calipers, 20 inch alloy rims, a redesigned and very smart twin "cockpit" cabin environment, state of the art sound-studio like entertainment, advanced touch-pad technology and much more. This thing's a beast!  When looking at the cabin, one can damn near smell new Milano leather — when surveying the proprietary designed, hand stitched-like 10-way power seats, first experienced in this Acura. 
Premium materials abound with just enough wood and burnished trim accents to shout premium, without being ostentatious. Acura retains just enough minimalistic functionality to retain the Acura loyal while appealing to a wider demographic. I anticipate more than a few BMW and Lexus owners coming to the Acura brand with this offering.
Winding it up: When's TLX Type S available , and how much does it cost?
As with all reveals, the devil is in the details. In short, 2021 Acura TLX Type S will come to market sometime in the late Spring 2021. In the meantime, I'll assume that other 2021 TLX offerings will be available Fall 2020. I'll keep you posted.
2021 Acura TLX is affordable
Good news for Acura TLX fans: Active safety and accident avoidance technology will be standard across all trim levels. All offerings will be turbocharged. While there is no mention of P-AWS, (precision steering) my guess is that it will be available on lower trim levels. Acura tells us that 2021 TLX comes to dealerships with a low beginning MSRP of $30,000 ish + .
Photo attributions: Acura Division 2020