On Thursday 05/28/2020 Acura will shake up the midsize sedan sport class by presenting a redesigned from the pavement up turbocharged 3.0 L V6 powered TLX.
The next generation 2021 Acura TLX Type S features segment topping horsepower, midrange torque, track tested handling and performance. If that's not enough to get your heart pumping, take a close look at the teaser image posted above.
3.0 turbocharged V6 power, new frame, suspension and more
Well, I may be stretching a bit on that specific disclosure. Acura, while hinting at the logical engine selection for the newly minted TLX, has not shared specifications as of this writing. So, we don't know what transmission they're pairing to. I'll assume Acura's award winning traction and safety systems come into play.
What I do know is that Honda Performance Development, and Acura racing favors V6 powered performance for the internal combustion side of NSX, Honda's winning Desert Racing Ridgeline Racetruck, GT, Pirelli World Challenge, and RealTime Racing's dominant Pikes Peak racing efforts.
I anticipate a twin turbocharged fuel injected 3.0 Liter turbocharged V6 for the TLX Type S, with a milder normally aspirated V6, or a turbocharged 2.4L 4 cylinder mill for A-Spec, Touring, and lower trim levels. The first time I road tested TLX I was blown away by how good it truly is.
Acura to offer gasoline/ electric hybrid options throughout the lineup?
With Acura's mother company Honda vowing to electrify the entire lineup prior to model year 2025, I'll make the bold prediction that a hybrid TLX option will be available for 2021. But, today belongs to Acura performance. Is Acura utilizing MDX engine technology here?
TLX is already a very capable and fun to drive midsize premium class 4 door sport sedan. Acura, through this latest precision crafted performance redesign goes after the premium sporting set in spades.
Granted, Kia's twin turbocharged 3.3 liter Stinger comes to mind, prior to seeing and driving the all new TLX as a viable contender. With a stated 365 H.P, I'd anticipated Acura pushing that power number to higher ground with greater horsepower and torque on a chassis capable of handling the power upgrade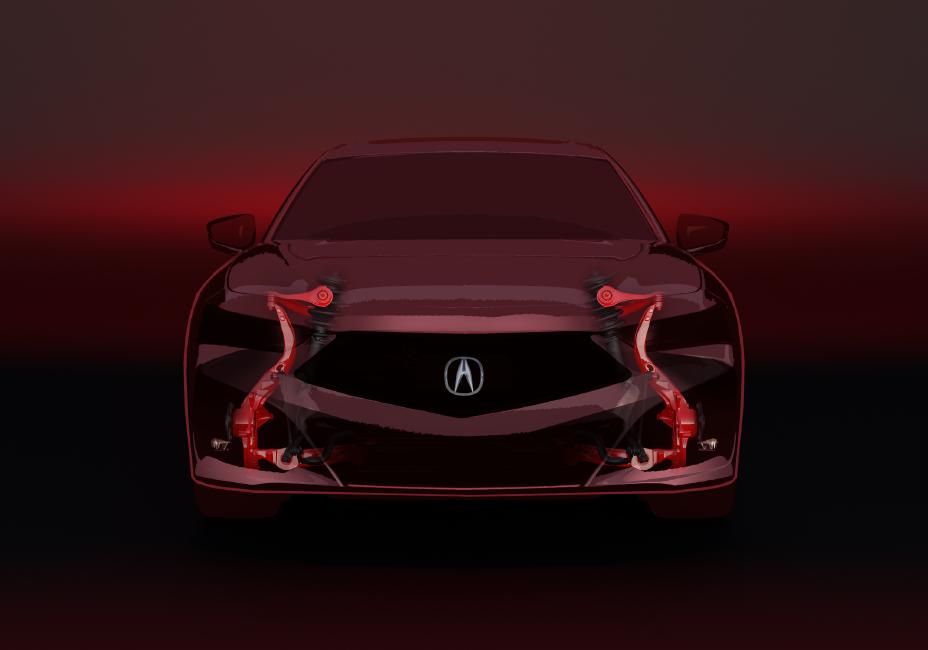 Acura teases double wishbone suspension for 2021 TLX Type S
To date I've driven every Acura TLX power and trim option. As a V6 engine fan, I'm excited about the forthcoming turbocharged offering. Looking to the suspension tease photo, I'll assume TLX just came up a notch in downhill sweep road handling.
And, that the nose dive is gone, along with any real or perceived torque steer. Always a pleasure to drive, the reinvented Type S will be a head turning road warrior. Acura will once again give the premium sport class contenders, Audi, BMW, Lexus and Volvo a run for the consumer dollar. Stay tuned for more as Acura makes an online debut here Thursday.
Photo attributions: Acura Division 2020