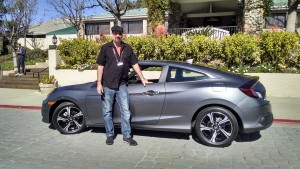 As recently viewed on the city streets and country roads in and around San Diego, California, phase two of Honda's 10th generation 2016 Civic roll out is the totally redesigned " World-Compact-Platform" Civic Coupe.
For 2016, Civic Coupe comes to market in late March 2016, not only larger in dimension, but a world apart from the departing 9th generation Civic — yet retains that "sportiness" exclusive two a 2 door compact coupe.
Honda design and engineering presents a one of a kind drive and ride experience, thanks the a slight wheel base stretch, widening of the track, and the lowering of the "hip point" by a full 1.5 inches. Thus creating a new "drive dynamic" for Civic Coupe fans, without the performance Civic Si price point.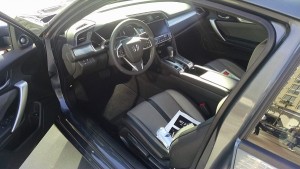 Honda engineering further refines and improves 2016 Civic Coupe to the point of encroaching on midsize car ride and interior comfort.
2016 Civic Coupe brings a much improved driver's seat, smart wheel, standard multi-directional back up cam, huge trunk and added rear compartment legroom. Your Civic Coupe may now effectively serve as a family hauler, commuter and week end sport vehicle, without compromise.
Presenting a visual eye-candy design cue, and interior uptick refinement,  the all new Civic Coupe, in many Audi and BMW model comparisons, upstages the European compact car segment, through affordable premium accouterments and measurable performance.
I find the greatest value in the base LX variant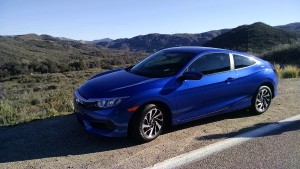 Sitting behind the wheel of 2016 Civic Coupe is an experience in its self. Put Hondapro Jason in the passenger seat, let the adventure begin.
While much has been made in the auto press as to Civic's new found turbocharged engine power, I look to the measurable improvement in body style, interior size and subsedquent comfort, a class setting base passive and active safety package, as well as what many consider to be the easiest shifting manual 6 speed transmission in the auto industry today.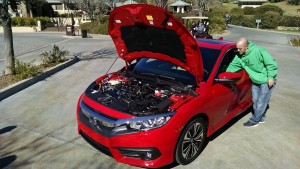 For 2016, the base Civic Sedan and Coupe come to the North American markets with an all new 2.0 Liter i-VTEC 4 cylinder gasoline engine, producing 159 horsepower, 138 ft-lb torque. This represents a measurable power increase of 12% over 2015, while increasing fuel efficiency. Catch my initial impressions of 2016 Civic Coupe here.
Torque is transferred to the road via one of if not the easiest shifting  6-speed manual transmission in the automotive industry today.  Honda engineering has effectively reduced peddle pressure while refining the shift pattern.
2016 Civic Coupe MSRP and fuel economy should follow Civic Sedan
So, if as predicted, 2016 Honda Civic Coupe comes to market in March with a beginning  MSRP under $18,500, while approaching 35 MPG in combined driving, 2016 Civic Coupe will be the greatest value found in today's European inspired "C" segment!
While driving on the country two lane roads of eastern San Diego County, I found that "sweet spot" in 3rd gear, and played with the 2.0 liter engine, while enjoying that Honda 4-banger exhaust tone exclusive to high revving Honda mills.
And that's all that I can share with you for now. Look for a full "first impressions" drive review, the last week in February.