Fall is a great time for driving the back roads of western Oregon. The weather borders on perfection and is generally dry, cool in the mornings, warm in the afternoon, and breezy. Last Labor Day Weekend, we headed down to "Fort Umpqua Days," with Ms Nancy King. Frankly, she wasn't eager to vacate the driver's seat of 2017 Ridgeline, and headed south on the old Territorial Highway toward Drain, Oregon.
V6 powered, fuel-efficient, easy handling
In talking with Ridgeline development engineers, as shared with Torque News, Honda's only pickup truck offering is designed with the part-time pickup truck user in mind. Our 2017 Ridgeline Black Edition comes fully equipped with every bell and whistle in Honda's arsenal, including HondaWatch ™, active safety suite, standard multi directional back up camera, power adjusted, cooled and heated driver and front passenger seat, leather trim, and black anodized exterior trim details. You will find full specifications here.
For night driving, our Ridgeline comes equipped with LED self dimming headlights, high visibility running and tail lights. Sinister by day, congenial by night, Ridgeline proves an exceptional multiple task master, tough yet accommodatingly posh — in a pickup truck sort of way.
The best seats in the Honda lineup
I realize that what constitutes "best" is a very personal assessment. Yet, our Ridgeline pickup with just a bit under 4,000 miles showing on the odometer, presented the most comfortable seat that I'd encountered behind the wheel of a Honda or Acura for that matter, over several years of short and extended vehicle drive review.
It may simply be relative to my personal size, weight, body condition, etc, I don't know, but I'm very impressed, so was Nancy! In short, 6 foot 5 inches tall, and 5 foot 6 inches tall, both found 2017 Honda Ridgeline infinitely adjustable, medium soft as to ride quality, without being squirrely, and powerful enough as to engine performance.
Interior sensory perception
Ridgelines interior is pleasing to the eye and touch, and while a bit plastic-rich, does present a nice balance of utility meets refinement. I  further appreciate the ergonomically correct layout of Ridgeline's center stack touchscreen monitor, instrumentation and i-MID. We both found Ridgeline personal electronic connectivity to work seamlessly, as did the Garmin based navigation.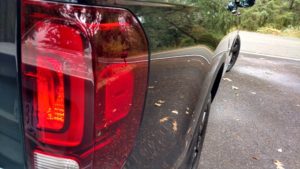 And of course, the backup camera as displayed through the monitor produced images of clarity, although a bit grainy at night!  The leather seating in our black edition is nicely detailed with muted red piping seating surface inserts,   and perforated for heating and cooling. I further found the fit and finish as to material interface exceptional.
Engine exhaust tone, shift patterns, cab noise, and more
I truly appreciate the throaty exhaust tone of Honda's mechanically bulletproof 3.5 Liter V6. Our Ridgeline test mule is equipped with "Econ mode." and at the touch of the button will seamlessly transition to 3 cylinders when driving at speed on the highway.
Honda employs the 6 speed automatic transmission across the lineup with torque transfer duty relegated to either a FWD ( front-wheel-drive) differential or optional "Intelligent Variable Torque Management," VTM 4, AWD (all-wheel-drive.)
For 2017 all Ridgeline trucks come equipped with a push button "dedicated traction mode," We discovered it initially in the all new Honda Pilot. Bottom line: Ice, Mud, Snow, no problem! But for us on this mostly dry day (we did encounter a raindrop or two,) Ridgeline proved a no fatigue drive and ride experience, despite an 8 hour, 400 mile drive day, on mostly two lane rural roads. Like I said, Ridgeline is quiet, smooth and fun to drive.
23.9 MPG combined real world fuel efficiency
On a day rural two lane, highway and gravel road transitions, on the flat and through the mountains, our 2017 Honda Ridgeline Black Edition, as fully loaded as you can find one, averaged 25.7 MPG combined on regular unleaded gasoline — we didn't baby it!  And yes, we did encounter more than one conventional pickup truck owner that appreciate the almost sinister look of Honda's latest and greatest offering.
In conclusion
I recommend 2017 Honda Ridgeline Pickup to anyone considering a new truck purchase, or wishing to eliminate a car or two from the stable, while opting for a vehicle that presents truck toughness, crew cab, SUV-like utility and premium Accord-like interior comfort and quiet. For those of you living in regions that don't require AWD traction, take a look at the all new FWD(front wheel drive) Ridgeline with a beginning MSRP of $29,475 to $42,870 +.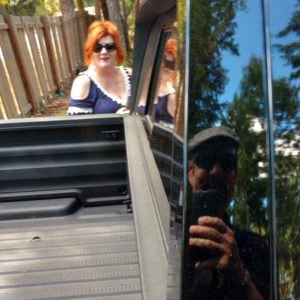 What I'd change
Truthfully, not much. However, for dedicated off-road use, I'd personally like to find a bit more ground clearance, specifically up front. I talked a bit with Honda engineering as to a possible air-suspension option, it could be done. Also, a few more inches in truck bed length and rear door seat access  would be appreciated. But then it wouldn't be a Honda Ridgeline.
2017 Honda Ridgeline is the makers greatest achievement to date on the road to reinventing their entire line.