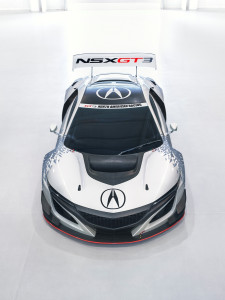 As reported Wednesday by (HPD) Honda Performance Development president Mr. Art St Cyr, Acura will return to North American Grand Prix racing in 2017 — for the first time since 2009 — in a factory built and modified 2017 NSX supercar, sans the hybrid drive train.
No big surprise here for those of us that have followed the decade-long unfolding saga of the "next" generation Honda/Acura NSX. We knew a race ready version of Acura's halo car was in the works from day one, confirmed by track testing in Japan and Europe. I reported on the 2015 Acura NSX Pikes Peak Hill Climb Pace Car here.
Sitting before us on Acura's stage at the New York International Auto Show is the culmination of a multi-national design, engineering and track tested effort. According to Art St Cyr: The balance of track preparation and testing for the North America specification GT3 car will be completed by a state-side team, and built by the same folks that bring us the production NSX in Marysville, Ohio.
I recently had the pleasure of touring the Honda Performance Development Center, and the Honda Heritage Museum in Marysville, while speaking with the NSX development team. — my experience there was life changing.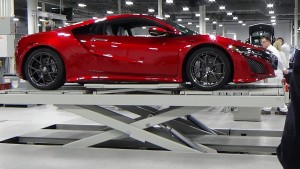 I walked away with not only a greater understanding of the complexity of today's automotive engineering, but a true appreciation of what "personal accountability" brings to the mostly hand crafted one-off supercar that is 2017 NSX.
Looking to the NSX GT3 car sitting next to a production model, it becomes apparent that in practice, Acura NSX technology s not only derived from the disciplines of aeronautic and automotive engineering, but in fact comes straight off of the race track.  When Acura tells you that NSX will roll off of the factory race ready, they're not exaggerating.
No hybrid technology for Acura NSX GT3
As learned on the track by Acura Real Time Racing, it doesn't always pay to push the boundary of race classification guidelines when it comes to racing. In the case of NSX GT3, there will be no hybrid drive train. Instead, Acura has opted for an extreme high output 600 horsepower twin turbocharged 3.5 Liter V6, as found on the Acura TLX GT and Honda Ridgeline Baja Race Truck.
As with the Acura TLX GT, torque will be transferred to track via a rear live axle. As of the posting Acura is not sharing specifications, date of launch or the team chosen to pilot 2017 NSX GT. My money is on Real Time Racing. Only time will tell.