1.5 million of our closest family and friends from around the globe read Honda-Torque News in 2015, that I know of.  Perusing the world-wide-web I discover countless pirated, or legitimately shared article links, in Asia, Europe, the Middle East, and South America. I am very grateful for the readership. Thank you all.
With that said: The most read Honda-Torque News article in the U.S. is credited to a car that will never be marketed in the states, the European based Civic Type-R. Civic Type-R excitement is driving Honda performance buzz into 2016 and beyond.
In speaking with my contacts at American Honda Motors, I don't anticipate the arrival of the 10th generation Civic based Type-R prior to mid year 2017, as a 2018 model.
According to the online buzz, the U.S. specified 2017 or 2018 Civic Type-R ( Honda hasn't committed to a production date) will be turbocharged, front-wheel-drive, shifted manually and produce north of 300 + b.h.p. Cost? Estimated to be close to $40,000 U.S..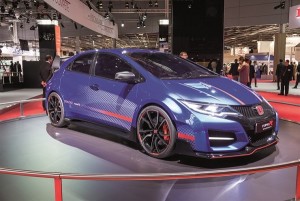 That's a bit conservative in my view when taking into consideration the current 2016 Honda Civic Touring price structure. But, if this Ford Focus ST, Subaru WRX killer comes to market as hot as anticipated, even priced at $50,000, Honda will sell as many Type-R as they can produce in North America. You may read my latest Civic Type-R article here.