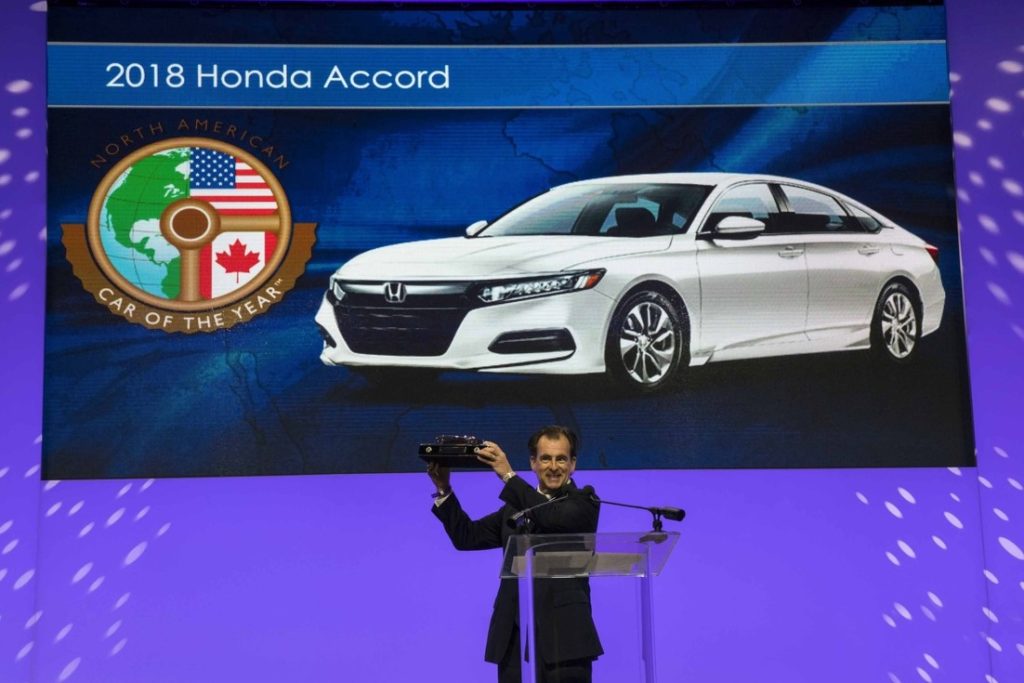 2018 marks the third year running that a Honda brand car or truck wins a North American Auto of the year award. This award is in effect the Oscar or Emmy for the auto industry. The selection process is arduous, long-winded and political. North American Car, Truck, or Utility of the Year is vetted by, reduced to finalist, and and then chosen by the majority consensus of a panel composed of active automotive journalists, editors, and lifestyle bloggers — a few of them good friends and associates.
This year, 2018 Honda Accord finds itself in good company with the reinvented 2018 Volvo XC60 midsize SUV, and the flagship Lincoln Navigator. An interesting cross-section of automotive engineering to be sure. Yet each winner is a standout in its respective segment. And like 2018 Honda Accord, the best at its intended application. Here's where my Accord, Camry comparison reference comes into play. I have driven both, and find each car to be an extraordinary redo of what was in the not too distant past, a bread and butter appliance car.
With a hat off to Toyota engineering, the 2018 Toyota in any variant, is a pleasure to drive. You may read my initial drive impression of 2018 Camry hybrid here. With newfound cutting-edge good looks, premium cabin refinement, a much-improved driver to car connectivity, and very impressive normally aspirated pedal power, Camry is a winner. Yet, according to a jury of 60 professional automotive jurors, Honda Accord takes the nod for, and here I quote; "2018 Accord honored for bold "new from the ground up" approach to remaking America's best-selling car over the past 41 years." says American Honda Motors.
Enough already. Here's what I like about the reinvented from the ground up 2018 Honda Accord
Looking to Accord's newfound design directive, one would be hard-pressed to find a more dynamic, eye-catching body design, available in today's subpremium midsize auto segment. Playing off of the well-received 10th generation Honda Civic design, 2018 Accord, regardless of trim level, runs with Civic's European inspired body language, and takes it to the next level in refinement and understated elegance. From its short-overhang trunk line to its classic touring car inspired long hood and pronounced 3D grill design, Accord breaches the limitations of an affordable midsize family car segment with exceptional standard featured connectivity and advanced active safety features. On the performance side, we find a new lineup of dynamic, fuel-efficient, turbocharged engines, and 2 new proprietary transmissions.
For 2018, Accords suspension is re-engineered for not only improved handling dynamics, but a quiet and comfortable drive and ride experience. 2018 Honda Accord is the quietest midsize sedan in the sub-premium midsize sedan segment — thanks to the strategic placement of acoustic deadened auto glass, carpet batting, and active electronic noise cancelation, Accord is at times, eerily quiet — something one doesn't anticipate from a sedan sporting a beginning MSRP well below $30,000. read my initial 2018 Honda Accord drive review here.
Not wishing to read too much like An Accord Ad
Honda engineering presents an Accord variant for every sedan driver. From the entry-level 1.5 Liter Accord Basic to the 2.0 Liter Turbocharged VTEC, 10-speed Accord Touring, 2018 Accord presents the greatest bang for your buck found today in a mainstream 4 door sedan. For the "Green" among us, 2018 Honda Accord Hybrid should arrive at dealerships sometime in the late Spring. I drove Accord Hybrid in New Hampshire last Fall. As with the current Accord Hybrid, the 2018 Accord Hybrid sits at the top of the Accord lineup, with sophistication, and fuel efficiency befitting a hybrid mainstay. Me, I like driving Accord. And will miss the V6 powered, manually shifted Accord Sports Coupe featured in this article. This too shall pass.