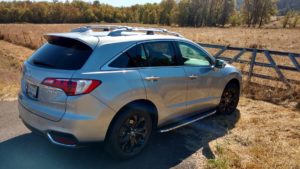 When Acura installs their rendition of Honda's near mechanically bulletproof VTEC V6, in a 2 row CUV the size of a Honda CR-V, great things happen! You won't discover much if any acceleration or torque lag behind the wheel of Acura RDX. And yet RDX remains well balanced.
Also, thanks to optional AWD (all-wheel-drive) very road sticky. While not a torque vectoring super handling all wheel drive like this car, 2017 Acura RDX takes Honda's time proven all-wheel-drive AWD with Intelligent Control System ™, to the next level in performance, by sending torque from primary front wheel drive to rear wheels when it's most needed.
In this system up to 50%  of the generated torque is dedicated to the rear wheels when slippage is detected — it's seamless, and very effective on slick, muddy or icy road surfaces.
The beauty here is when driving RDX, there's virtually no torque steer noted by the driver when pushing the 'pedal to the metal.' In essence, RDX 'feels" like a live rear axle performance car, without the rear wheel "burnout!" It's a beautiful thing! And I do love that V6 exhaust growl, as well as the engines interaction with what some in the industry will consider out dated, the 6 speed automatic transmission, with standard equipped sequential steering wheel mounted paddle shifting.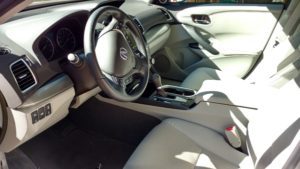 As noted by my fellow automotive journalist, while 2017 Acura RDX is not the most powerful or sophisticated 9 luxury) offering in the luxury segment, when weighing the total package that is RDX, this crossover is effectively a drive and ride purchase value.
O.K., where's the wood and the bling?
Granted, Acura's held the path with RDX as to their philosophy of "precision driven performance," and understated elegance. The style is there, but it's Acura styling, a bit plastic rich, and either you'll like the front end (grill) design, or you won't. For me it's not a deal breaker. But then again, I'm not buying or leasing RDX. Did I mention how much we enjoyed RDX in Phoenix?
I appreciate the light and bright confines of what is arguably the most comfortable interior in the segment. What truly stands out for me is the touch and 'feel' of the 10 way power adjusted driver's seat, the sweeping curve of the soft-touch dash, the uncluttered 2 dial, i-MID instrument cluster, and the historically correct placement of the stick shift.
Plush, but not posh, that's Acura. If I have but one gripe here, it's that Acura retains the dual screen center stack layout for 2017. And, this kills me — manual knobs for climate control, fan speed, mode selection and ?
As with most vehicles on the market today, there exists more than a bit of redundancy in the overlapping of sometimes less than intuitive smart-wheel-controls, touch screen interface, voice command, and manually manipulated directives — as  to mechanical and electronic conveniences and personal electronic connectivity — 'beam me up Scotty, now!"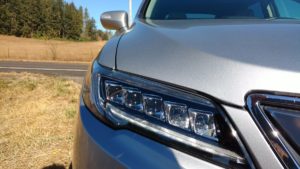 It all works well enough with exception of "smart phone" pairing. I don't know, there may be a glitch in my personal hard drive.
What's frustrating for me as a Honda aficionado, Last weeks run in the all new 2017 Ridgeline Black Edition was seamless — Acura has the technology to take its lineup to the next level of personal electronics connectivity.
Very comfortable, reasonably quiet, keyless entry, ignition, power liftgate and more
Our 2017 Acura Advanced AWD came fully equipped, and then some. Stacked on top of what is arguably the most comprehensive trim-level-option in the segment, were 18 inch black alloy rims, color matched roof rails, cargo bars, running boards, rear bumper applique, light door sills, and a waterproof cargo tray — making for a near sinister looking RDX package with a total price as equipped of $47, 094 + prep, licence, registration, applicable sales tax and optional extended warranty, etc.
On the convenience and ease of access side, I found Acura RDX very accommodating, especially in the second row. Even at 6 foot 5 inches tall, I discovered a very comfortable 40/60 split rear bench with ample shoulder, head and legroom. Acura claims that 5 adults and their luggage can travel in comfort in RDX. After spending a week in the seat, sure, why not?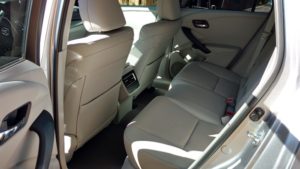 Room with a view
Thanks to a slightly elevated seating position, view to the front is good, as is ease of conversation while in motion. Thanks to electronic active noise control and amble road noise and vibration abatement, conversation between the front and rear row passenger occurs in normal tones. While not a s quiet as MDX, it's close.
Great sound system, decent ride quality, ease of operation
Acura's ELS 9 speaker premium sound system is one of the best in the industry. And with 4-wheel independent suspension, hydraulic dampers, and electronic assisted steering, driving and riding in Acura's compact 2 row crossover is pleasurable.
You need not purchase a top of the line trim level RDX to enjoy premium quality, passive and many of the active safety features presented in the Acura Advance. With a beginning MSRP of $35,570, Acura RDX gives the European entries a run for the dollar.
Next generation RDX scheduled for 2018
With big changes on the horizon slated for Acura's second best-selling SUV, crossover, It would be just a bit counterproductive for me  to make a change suggestion of two. Throwing caution to the wind, I'd like to see RDX styling go the way of 2017 MDX, I have little doubt that it will.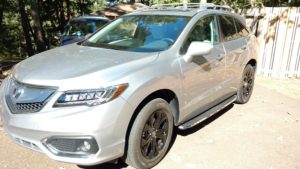 The precision diamond grill would look great on RDX. Also, RDX is in dire need of an updated center stack, single static screen display. Furthermore, what can we do to improve "voice command," navigation, and "seamless" cellphone/vehicle pairing?
And while I'm at it, is there any particular reason  Acura couldn't offer an air-suspension option for RDX? This would  be great for mild off-road use. Dare we talk hybrid? O.K., I'll leave that question for a future article. For me, my week in the seat ended with a nod and a smile. I thoroughly enjoyed my RDX experience. But then again, who doesn't appreciated value priced quality and drive performance?