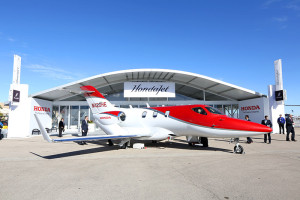 Today, the F.A.A. granted Honda Aircraft Company "Type Certification" for the Hondajet, a project that's been in development for the better part of a decade. What this means for Carolina based Honda Aviation and the handful of corporate buyers waiting for delivery of the most fuel efficient, fastest and highest flying personal jet in its segment, they can take delivery.
I first reported on the development of Honda's segment busting personal conveyance back in May 2014, and had the pleasure of speaking with Honda as to development plans of what is arguably the most powerful and quickest Honda in the company's history.
*The FAA presented the type certificate to Honda Aircraft Company President and CEO Michimasa Fujino in front of more than 2,000 people, including FAA Administrator Michael Huerta, government representatives, community leaders, HondaJet dealers, suppliers, and Honda Aircraft associates.
As eloquently stated by Honda
"Achieving FAA type certification for the HondaJet is a monumental milestone for Honda," said Fujino. "We established Honda Aircraft as a new aerospace company and introduced our first product — an advanced light jet with technologies developed from serious research activities. We designed, tested, and have now certified this clean-sheet design aircraft – an unprecedented challenge for Honda."
Personally, I hope to take a ride on Hondajet in 2016.
My congratulations to Honda Aircraft Company of Greensboro, North Carolina, well done!
Honda Aircraft Company 2015.