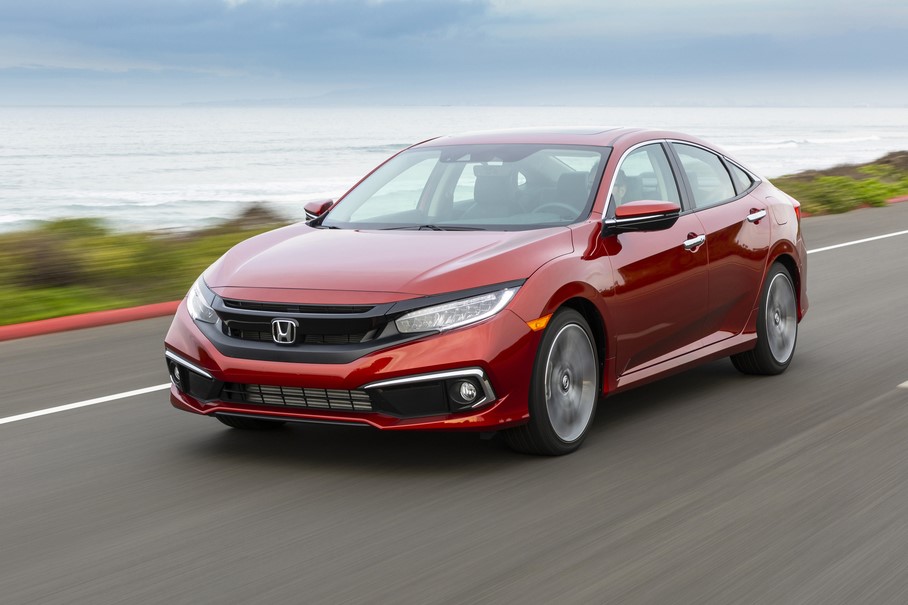 Your Honda News revisits the refreshed 10th generation turbocharged Honda Civic Touring Sedan. A 50 year love story? Almost. For 2019 Honda Civic leads the compact class in 3 important categories. We take a closer look at America's best selling compact sedan.

Honda historic retrospective
As an automotive journalist I trace my beginnings back to the Honda Civic. Actually my history with America's original import brand goes back to childhood with memories of mom's 1970's Accord sitting in the garage, and before that, a Honda generator and the C600 series.

The first family Honda was white with a red interior, smallish yet perfect for driving through the already congested streets and highways of Los Angeles and Orange Counties. Driving the 2019 Honda Civic Touring for me is like saying hello to an old family friend.

Looking back, that little Honda Accord, and later my Civic, would remain a cherished family member for a decade or two, and lead to other Honda products leading to a lineup of on and off road motorcycles. That's Honda's market advantage in the United States. It's generational.

Thanks to Civic, CR-V and HR-V, the Honda automotive brand continues to lead the automotive market in compact, midsize cars and light truck sales. Our subject Civic remains the best selling retail compact sedan in America. There's several reasons for that, including standard entry level features and a turbocharged option being but two.
2019 Civic a carry over with a refresh or two

I first drove the 10th generation Honda Civic four years ago on the back roads of Malibu Canyon of Los Angeles along with a pre-production 10th generation Civic Si. That day my impression of Honda Civic would change forever. Gone was the entry-level economy sedan of last century.
Since, i've driven every Honda car and light truck in the lineup over the years, so, forgive me for being a bit blurry on the factoids.
Nonetheless, my first drive impression of the reinvented Honda Civic remains valid. As discovered in 2015, the refreshed 2019 Honda Civic Sedan remains the best overall, tech rich, and fun to drive purchase value available in the sub premium sedan and hatchback segment today. Honda goes after the German imports with this Civic, and wins in overall purchase value and road handling.

And, while many Hyundai, Kia, Mazda and Toyota readers and fans may balk at Honda Civic styling, Civic outruns the pack in turbo power and overall ride dynamic — quiet cabin, infotainment, with standard featured driver assist and accident avoidance technologies. Me, I like Civic styling. A bit edgy, yet cool.
Civic is the only entry in the sub premium sedan class claiming 174 turbo charged horsepower while maintaining class leading fuel economy (30 city/38 HWY)

Perfect? Well, not yet, but close
There remains a handful of changes I'd make to Civic beginning with seating position in relation to the cabin floor and side doors. Ingress and egress remains a challenge for taller drivers and passengers. Yet at 6'5" inches tall and large of frame, I'll hand it to Honda engineering and design for superior value and performance packaging. In short, 2019 Honda Civic Touring is an overall delight to drive and ride in.

With the 10th generation Civic comes the maker's first fuel injected turbocharged 1.5 Liter 4 cylinder gasoline engine powered compact. This engine is responsive and fuel stingy. Gone for 2019 is the 6 speed transmission, turbocharged engine pair option, * available in the 2.0 L normally aspirated engine only.

However, on first drive, we discover a more conventional transmission-like segmented CVT (constant variable transmission) little to no front-wheel-drive torque steer, a quieter cabin, very decent fit and finish, with driver and front passenger seating now power adjusted — although limited on the passenger side.

A welcome change for those challenged by touchscreen command and volume control is the addition of analog nobs where you need them. Ride quality remains stunningly good for a compact, assuring very descent handling while pacing through a high speed country two-lane.

During our week long road trial we experienced a combined 31 MPG — better on the highway of course. Read more about Honda Civic here. I find very little to no fault in Honda Civic and recommend a test drive to anyone considering the purchase of a new or used compact sedan.

For comparison test drives, look to Mazda 3 and Toyota Corolla.

And, go here for full specifications and stated MSRP.

2019 Honda Civic Touring leads the compact car segment in 3 categories: 1. Turbocharged power. 2. Refined road handling. 3, Combined fuel economy rating.
Photo attributions: American Honda Motors 2019.