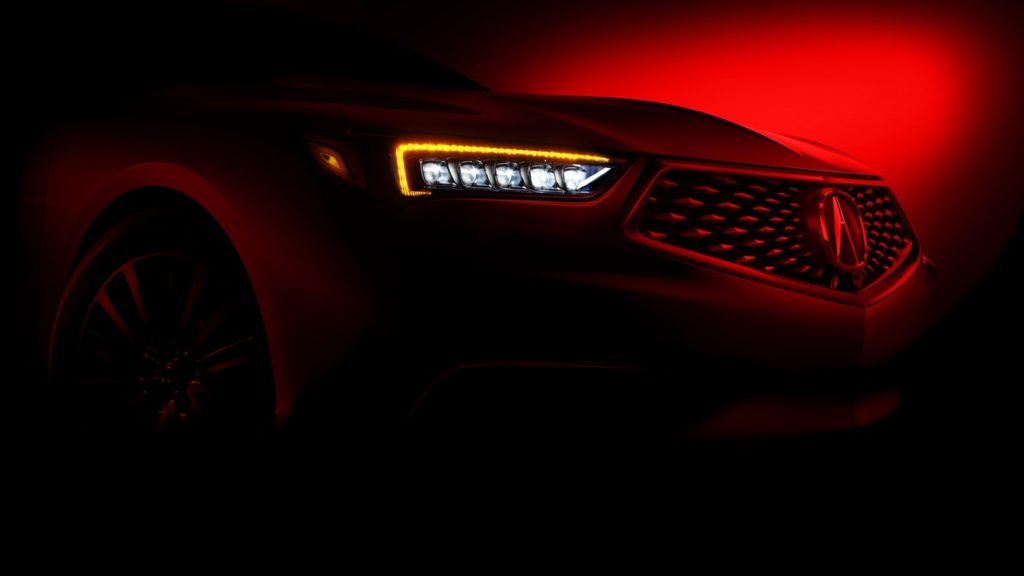 Judging by Acura's latest 'teaser image' of the 2018 TLX premium midsize performance sedan, the Precision Performance inspired design upgrade should not only elevate lagging TLX sales, but take the maker to the forefront of a very competitive, German dominated segment — where frankly, for many well heeled buyers' price point is secondary to cutting edge good looks and reasonable road performance.
Already a great car by most discerning buyer's standards
I count myself fortunate to have gained much seat time behind the wheel of Acura's upper trim level sedans and SUVs. While arguably, a bit visually understated when compared to the likes of Audi, BMW, and Lexus, every one of Acura's offerings makes up for conservative looks, with exceptional road handling, cabin comfort, reasonable MSRP, and top of segment fuel efficiency and safety.
Where Acura continues to trail the competition is in engine power output, and body style. Me, I personally like Acura style, but I'm not 40 something, and captivated by the rather futurist styling of Lexus, or the German in-your-face historically correct performance sedans of Audi, BMW and Mercedes. Acura in direct comparison trends towards "boxy," on the SUV side of the mark, and Honda-like on the performance sedan side of the big "A. That's all about to change."
With the advent of NSX hybrid supercar, and the presentation of Acura's Precision Performance Concept, comes a major change of direction in Acura lineup-wide body language. Gone is the Acura Beak, and by most accounts, it won't be missed. In its stead, as featured most recently in the 2017 Acura MDX refresh is a diamond mesh 3-D grill design, featuring Acura's unique moniker, front and center. Read my latest take on Acura MDX sport hybrid here.
We further note a seamless integration of updated L.E.D. headlamp and running light details. And, as seen in recent spy-shot photos, a round to organic, side panel body line, expressing improved engine performance and torque vectoring road handling to come.
Hybrid, new center dash static screen, and expanded active safety features
Perhaps! As of this posting, Acura's not saying. But truthfully, I wouldn't be surprised to find a turbocharged 1.5 or 2 liter 4 cylinder gasoline engine rolling down the production line, linked to a new proprietor Acura transmission, or two.
Look for the world debut of Acura's next advent at the New York International Auto Show in April.