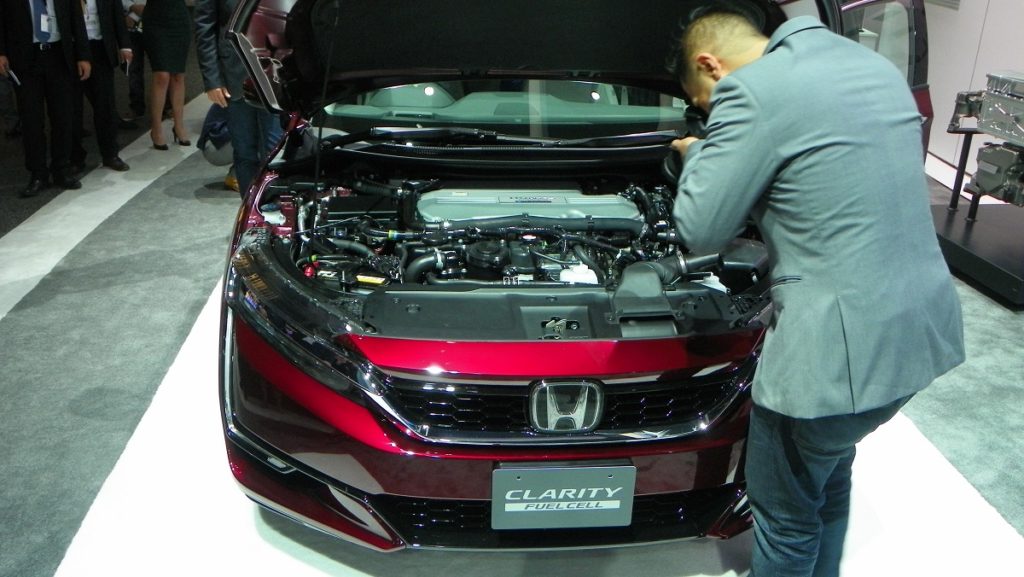 As announced Monday morning by Automotive News, E.V. enthusiast looking to Honda for extended battery electric vehicle range, will be a bit disappointing by Clarity BEV. (Battery Electric Vehicle)
In a recent interview with American Honda, Automotive News was informed that the Clarity platform battery electric follows the example set by the no longer available in the U.S. Fit E.V. — with an approximate 80 mile drive range before requiring recharging.  O.K., I was anticipating a bit more!
Will short-range kill the market for Honda's battery electric Clarity platform variant?
Frankly, I believe when looking to the recently formed hydrogen development alliance between Honda and General Motors, the maker has dedicated facility and resources to the development and marketing of compressed hydrogen fuel cell electric cars. I take a closer look at 2017 Clarity FCV here.
With the 230 mile range Chevy Bolt coming on-line at well under $38,000, before tax incentives, and Tesla shooting for 2018 manufacturing and delivery of the Tesla 3, outside of the hardcore Honda EV loyal, there is little market for Clarity BEV.
Clarity to come in 3 variants
Hydrogen Fuel Cell, Plug-in Hybrid, and Battery Electric
At this point in time it's nearly impossible to measure what's referred to as the "white space" in a rapidly expanding and ever-developing E.V. market. The viable future of the electric car rests with battery density, and the manufacturing volume capacity of an emerging battery industry.
In a recent report from automaker Tesla, it's revealed that battery module cost was 60% of what it was just 5 years earlier. That's a step in the right direction as auto manufacturers mainstream electrification of personal conveyance. Who will take the immediate lead in the market mainstreaming of the E.V.?
As of this writing the #1 engine manufacturer in the world is Honda — that's the internal combustion engine. No company has done more to develop and market low to no emissions
I.C.E, and certainly Honda demonstrates market viable applications of electric motors in the NSX supercar, and the now on the highway Clarity FCEV.
At its base core, Clarity Fuel Cell is an electric vehicle. Clarity Battery Electric, for now I'll take a wait and see position as to the market viability of Honda's 80 mile range electric. Read my latest take on the Clarity BEV here.