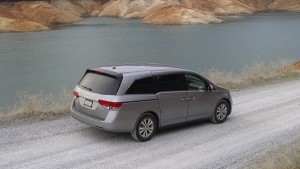 According to Torque News and others, Thursday found American Honda issuing a 2nd row seat latch related safety recall. Honda estimates that upwards of 650,000 Odyssey minivans produced from 2011 through 2016 may be effected.
In short: Based on 689 defective seat to floor latch warranty claims, American Honda has initiated a precautionary recall, with notification by mail to consumers scheduled for February 2017, and modifications to commence sometime in early Spring 2017.
The key word here is "precautionary."
Looking to the design of the current seat to floor latching mechanism installed in the 2011 through 2016 Odyssey minivan, an inadvertent improperly latched seat can result in the seat shifting during an auto accident episode. To remove the possibility, Honda will install at no cost to the end user, a modified latch and additional spring mechanism.
As a fellow Odyssey driver, I kindly recommend a quick check of the second row seat top floor latching mechanism. Is it in the lock position?
Honda Odyssey was the best selling minivan in North America for 2016. A reinvented next generation 2018 Odyssey will be revealed at the Detroit International Auto Show in January.
For more information on this and other Honda related recalls